Regular price
$16.00 SGD
Sale price
$14.08 SGD
Unit price
per
Sale
Sold out
We all want our lips to look soft and beautiful. However, with age, our lips start to get those lines which makes them look old and dull. To prevent your lip skin from ageing, it is best to keep them moisturised with a lip balm all day long. It helps you keep the lips plump and softens the lines.

💄𝚂𝙷𝙰𝙳𝙴 𝟶𝟶 - 𝙿𝚄𝚁𝙴𝙻𝚈 𝚈𝙾𝚄💄
A colourless lip balm packed with skin-loving ingredients for effective rapid hydration.
Apply onto bare lips throughout the day for a quick dose of hydration and protection.
𝘊𝘢𝘯 𝘣𝘦 𝘶𝘴𝘦 𝘢𝘴 𝘢 𝘯𝘪𝘨𝘩𝘵 𝘳𝘦𝘱𝘢𝘪𝘳𝘪𝘯𝘨 𝘭𝘪𝘱 𝘵𝘳𝘦𝘢𝘵𝘮𝘦𝘯𝘵 𝘣𝘺 𝘢𝘱𝘱𝘭𝘺𝘪𝘯𝘨 𝘢 𝘨𝘦𝘯𝘦𝘳𝘰𝘶𝘴 𝘭𝘢𝘺𝘦𝘳 𝘣𝘦𝘧𝘰𝘳𝘦 𝘣𝘦𝘥𝘵𝘪𝘮𝘦.


💄𝚂𝙷𝙰𝙳𝙴 𝟶𝟷 𝙱𝙰𝚁𝙴 𝙿𝙸𝙽𝙺💄
This hydrating balm responds to your lips' unique chemistry to reveal a subtle tint that's perfectly you. It smooths and conditions for a pretty, pampered pout.

𝘐𝘧 𝘺𝘰𝘶 𝘭𝘪𝘬𝘦 𝘢 𝘥𝘦𝘭𝘪𝘤𝘢𝘵𝘦 𝘧𝘪𝘯𝘪𝘴𝘩 𝘵𝘰 𝘢 𝘣𝘢𝘳𝘦𝘧𝘢𝘤𝘦𝘥 𝘰𝘳 𝘯𝘢𝘵𝘶𝘳𝘢𝘭 𝘮𝘢𝘬𝘦 𝘶𝘱 𝘭𝘰𝘰𝘬.
𝘠𝘌𝘚 𝘪𝘵 𝘥𝘰𝘦𝘴 𝘪𝘵 𝘢𝘭𝘭 !


💄𝚂𝙷𝙰𝙳𝙴 𝟶𝟸 𝙼𝙰𝙽𝙸𝙵𝙴𝚂𝚃💄
A perfect blend of lip care and makeup that adds definition to your look.
Apply as needed as a refreshing touch-up and semi-sheer coverage.

𝘛𝘩𝘪𝘴 𝘵𝘳𝘢𝘯𝘴𝘭𝘶𝘤𝘦𝘯𝘵 𝘴𝘩𝘢𝘥𝘦 𝘨𝘪𝘷𝘪𝘯𝘨 𝘺𝘰𝘶𝘳 𝘴𝘬𝘪𝘯 𝘢 𝘨𝘰𝘳𝘨𝘦𝘰𝘶𝘴 𝘨𝘭𝘰𝘸 𝘪𝘯𝘴𝘵𝘢𝘯𝘵𝘭𝘺.

With regular application and the right lip balm, you'll be one step closer towards plump, soft pink lips!
***EXPIRY***
Lip Balm 12/2024
WHAT IS IT MADE OF:

Avocado oil, Grape seed oil, Rose Geranium Essential Oil, Tocopherol (Vit E), Castor Seed Oil
HOW DO I USE IT:

Refer to description above.
WHO IS THIS FOR:

Everyone. Good for a gift to your loved one as well!
LOOKING FOR MORE CLARIFICATIONS?

Kindly email us on thekissbeauty@gmail.com if you have further enquiries, or you may drop us direct message on our official Instagram for prompt reply!
View full details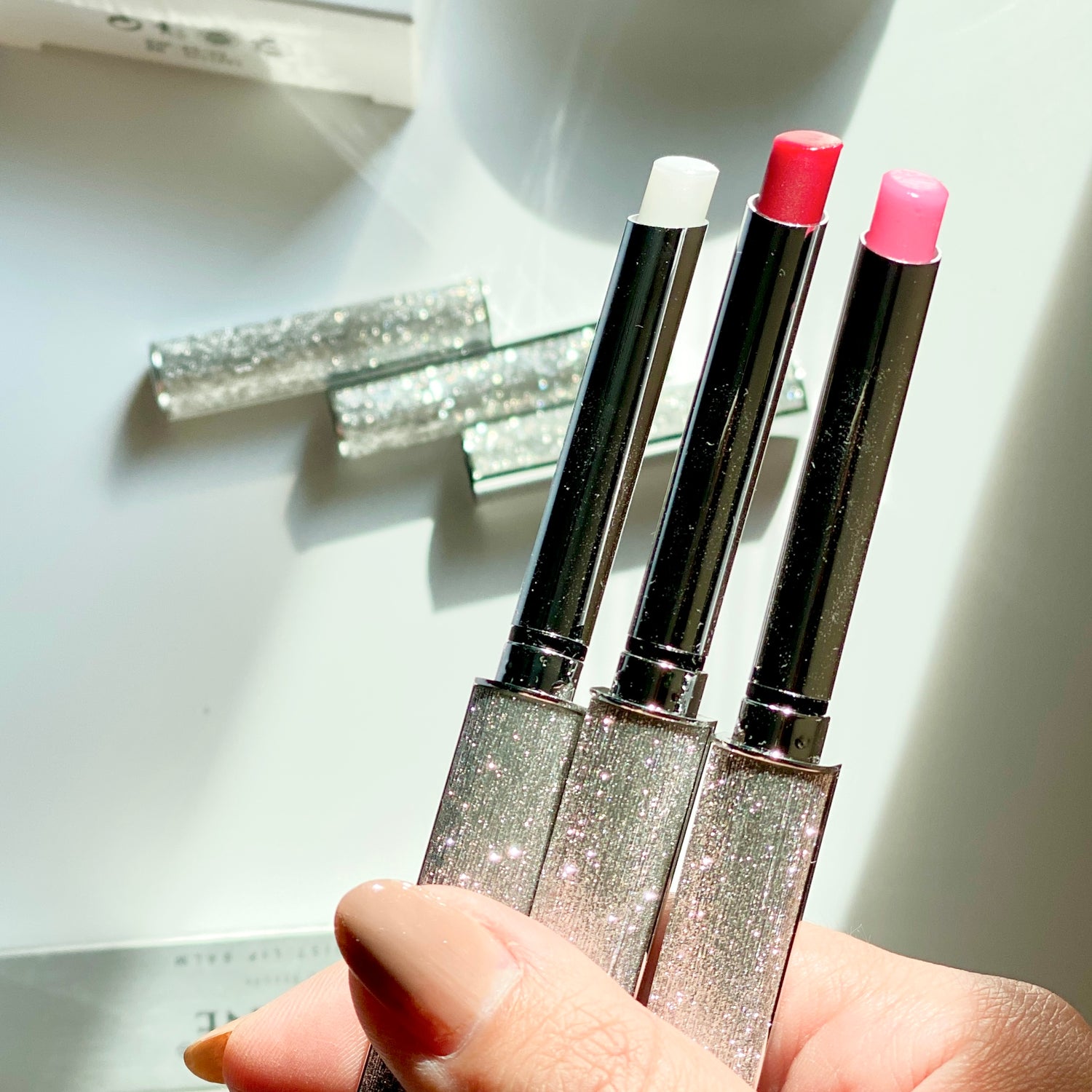 WATER MOIST LIP BALM
Infused with Avocado Oil, this highly raving superfood contain multiple vitamins and antioxidants which make the lip skin feels amazingly smooth and plump.
Grape Seed Oil effectively get rid of free radicals that damage your healthy cells, helps the collagen in your lips stay healthy and even get restored.